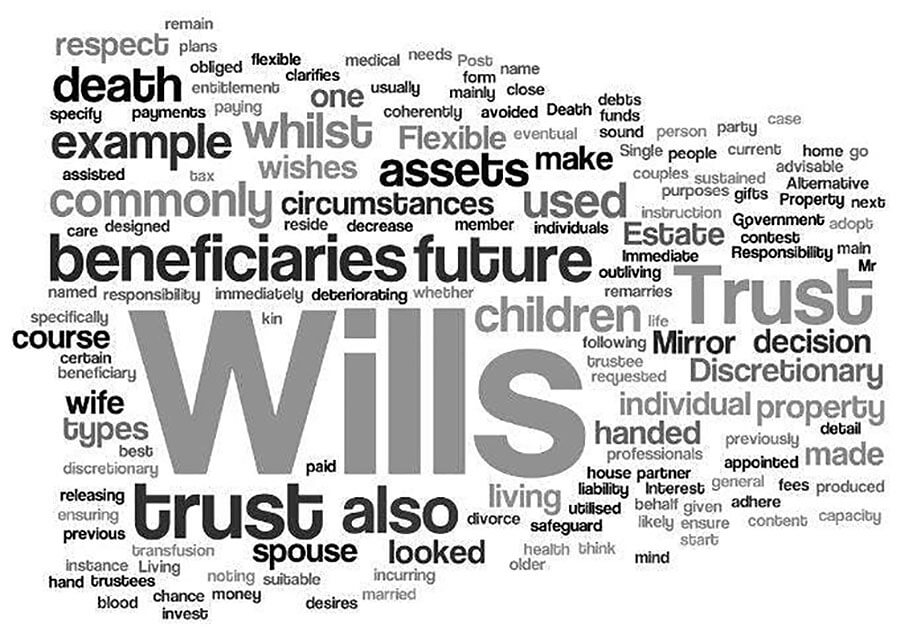 Wills including Sharia Compliant Wills and Powers Of Attorney
We want to help ensure that your wishes are being met. Peace of mind for you and your family is the primary goal of our office when assisting clients in drafting wills and/or powers of attorney. We assist in deciding whether or not a court ordered "Probate" (Certificate of Estate Trustee with Will) is required. We can help you complete the winding up of the Estate by advising, in plain English, the requirements of the law as it relates to the Will.
Our office helps individuals manage their estate planning in a financially and fiscally responsible manner. The majority of people, if not all, wish to minimize the tax liability and ensure that testamentary gifts are provided to family and friends with minimal costs. It is good personal planning to have an estate plan which would include a Will and also Powers of Attorney for financial and for health purposes. These basic documents will make an already difficult situation more manageable at the appropriate time for your beneficiaries. A clear and concise will does not only provide a comprehensible set of instructions for your family in their time of grief, but can also remove any potential conflicts that may arise if an individual dies without a will in place.
Peace of mind for you and your family is also the main goal when drafting powers of attorney, for medical or financial purposes. A formal power of attorney helps remove stress from not only the affected individual, but also family members that may not be able to cope as well in trying situations. For example, appointing a friend and/or family member with a health or medical background is greatly beneficial when designating a power of attorney for personal care. The same reasoning would apply when designating a power of attorney for property and considering a friend and/or family member with a financial or business background.
An important objective of a will and/or power of attorney is to prevent unnecessary stalemates and ensure that proper decisions are made in a timely manner in accordance with one's wishes.
WHAT HAPPENS WITHOUT A WILL IN PLACE?
When a person fails to craft a Will, their wealth and personal property are distributed by the rules under the Succession Law Reform Act. Often called "intestate," the government has a hard set of regulations it follows. These include the following.
The first $200,000 goes to the spouse unless a financially dependent heir makes a claim.
After $200,000, the remainder is divided between the surviving spouse and direct heirs.
If unmarried, the children or grandchildren may inherit the estate.
In the absence of a spouse, children or grandchildren, the court will reach out to extended family members such as siblings, cousin, and others. Although this seems like a logical method, it likely differs from the subtle differences you might make. For instance, items such as family heirlooms and things that hold great personal value would merely be assigned a monetary value.
Drafting a will
There are a number of reasons for making a will. You can name a guardian for your children should you pass away before they reach adulthood. Their wellbeing could be severely affected if provisions have not been made for guardianship in the event of your death. You can also ensure your assets are distributed according to your wishes. Wills should be updated as circumstances in your life change, such as the birth of a child, a death in the family, marriages, divorces and property acquisition. You should also review your will regularly to make sure it continues to reflect your wishes.
Drafting Powers of Attorney
A power of attorney is protection for you in the event you become unable to make important decisions while you are alive. For example, you may be in a coma. With a power of attorney, you appoint someone you trust to make decisions on your behalf, such as handling your financial affairs or taking responsibility for your medical care. Joseph T. Santoro* is well versed in the preparation of powers of attorney, ensuring your wishes are properly recorded and communicated, and hence respected.
Tax Planning
One of the principal goals of estate planning is effective tax planning. We assist clients with their tax planning in the areas of intergenerational wealth transfer and business succession. Joseph T. Santoro* works closely with clients' other advisors, such as accountants and financial planners, to ensure an efficient and tax-effective plan is put in place.
What we can do for you
Although will and estate planning can be a complex undertaking for some clients, for most clients, preparing a will or powers of attorney is not quite as onerous as you may fear.
We take initial wills and powers of attorney instructions by a consult appointment, and clarify during that initial conversation what issues may need to be discussed more fully with family members or partners before preparing draft documents.
Draft documents can be sent out to the client for review and any questions or concerns can also be addressed by phone if time is at a premium for the client.
When satisfactory drafts are in hand and all questions answered, all that is required to complete the service is a brief office attendance where we will do a final review and then ensure that the documents are properly executed and witnessed. Clients must remember that wills are designed to direct the administration of their affairs only after their death.
Most clients will also consider preparing powers of attorney at the same time to handle their affairs in the event that they should become incapable during their lifetime. In that unfortunate situation, the designated attorney (often the same person or persons who are appointed as estate trustees in your will), will be empowered to look after your financial affairs (continuing power of attorney for property) and your health care decisions (power of attorney for personal care). Preparation of these additional documents can often be handled in the same manner as the preparation of wills.
CONTACT AN EXPERIENCED TEAM OF ESTATE PLANNING LAWYERS IN TORONTO ONTARIO
Working with an experienced attorney to craft a Will amounts to more than just tidying up your affairs. It's an act of kindness that demonstrates how deeply you care about the loved ones we will all leave behind some day. If you do not have a Will or need to update an existing one, contact Affinity Law, and schedule a consultation today
If you would like more information, or have something specific you would like to discuss with us, please contact us by telephone at (905) 738-2463.